Not so fast, net nerds
Inside the CBC trumpeted a new CBC iPhone site. Lemme ask: Why isn't there just a mobile site, ideally but probably not using handheld CSS, that works on any mobile device? (Works for Flickr; ask Zeldman.) Why tie the future to one pod? And since it's so hard to type on a small device, why isn't the hostname just i. or the more typical m. instead of iphone.?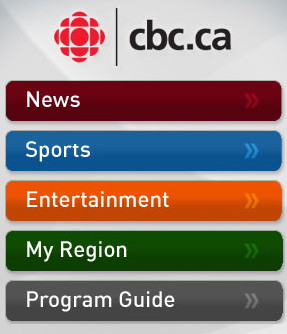 Anyway, that is not my complaint. I figured something was up, so I looked at the iPhone page's source code. It's quite seriously broken for an organization that, right-wing assholes tell us, gets a billion bucks a year to run Wheel of Fortune.
I wanted to double-check, so I had the blinks at VIPhone, the blind-iPhone-users forum, check the site. One person bothered, and he could barely read anything. No surprise, actually.
An unfair investigation? We aren't making mobile sites for blind people? Ah, but we are. We're making Web sites for all kinds of people; next you'll ask us to figure out a way to keep right-wing assholes off our site. Usability tests prove that accessible sites are more usable for nondisabled people. Accessible development is a kind of quality-control method.
Besides, it's a miracle that code this broken works at all. Really, why not just put the whole thing in Silverlight? Oh, right.