April 1990
Now with ILLUSTRATIONS thanks to Michael Russell
Our LOOK BACK IN ANGORA this month takes place under the auspices of SPY's cover headline, BASKET SHOTS OF THE RICH AND FAMOUS. Everyone's fantasy, shurely?!
The SPY List
When properly executed, incongruity works reasonably well. I'm sure you could think of your own examples from Python. Or simply the catchphrase "I'll buy that for a dollar!" from RoboCop. Or the plan I once heard – get six or eight guys together and have them march in lederhosen in the homosexualist pride parade, stopping at preordained moments to knee-slap, all entirely without explanation.
The SPY List is like that. In the fullness of time, I might simply retype all the ones I've got. But in each issue, one reads a simple list of proper names, usually of humans but once including the name Secretariat, with no explanation other than the title THE SPY LIST.
The SPY List

Milton Berle
Kevin Costner
Mick Jagger
Don Johnson
Tom Jones
Tommy Lee
Ray Stricklyn
Rudolph Valentino
That was on page 23. Nine pages later, a superspecial photo featurette, "Man at His Best: An Illustrated Supplement to the SPY List," gives us eight revealing photographs of fully-clothed men with visible members. Or visible folds: K. Costner, in tennis shorts, is probably merely displaying a zippered fly, while the peterframptonesque photos of 1970s-era megastars with the queasying combo of stickman musculature and Farrah Fawcett-Majors hairdo emphasize just how much it matters what a large member is attached to.
(Besides, K. Costner's Timbit-sized penis was a source of ridicule in whatever that dumb-arse third baseball movie he made was.)
Do we infer (pace Secretariat) that every SPY List had this same ulterior meaning? Well, I'm going to infer it.
We get lots and lots of letters
Virtually the entire Letters section this month is a keeper.
I would like to assure you, after reading your November 27 Newsday comments and those by Lewis Grossberger in 7 Days, that I am NOT [sic] "rattled" by the SPY Tote Board. In fact, I consider it a great compliment to receive so much attention and space from you. I particularly enjoy it because it is like a nonsense game and seems to bear little resemblance to any reality. It is sometimes very amusing. The Tote Board has certainly made me better known than any other kind of exposure I have ever had, and it has given me a new, youthful audience.

You have certainly misunderstood my defense of Abe [Rosenthal] and Shirley [Lord] – much to my amusement. They are merely part of the whole.

Liz Smith
New York

Ah. What?
The Liz Smith Tote Board, you will of course recall, features a cropped head shot of the lesberrific gossipeuse/"Mrs. Rock Hudson" manqué in an Indian headdress or with her eyes closed, followed by a list of celebrity names and the number of daily mentions per month. "Liz herself" is mentioned once every 2.6 days this month, while the perennial "Clients of press agent Jeffrey Richards" are mentioned once every 6.5 days.
Now, why can't this sort of thing come back in style?
---
Yes, interior designers/decorators do have more power than they deserve, but whose fault is it? ["But Was the $18,000 Curtain Beautiful?" by Michael Walker, October]? The Giacometti-like wives of the rich aren't the only ones to blame. Interior designers have been creeping into positions of power in architectural firms at an alarming rate, especially commercial firms.

But then again, unless you're I.M. Pei, as an architectural firm you don't design buildings. You program and plan studies for the reconfiguration of space that, in the end, the client decides to do in-house after all. Beyond this, the best it gets fee-wise for any architectural firm is when the interior designer brings in a little cash with specifications for mauve wall coverings and periwinkle laminate surfaces.

Here in San Francisco, the designing of our own Main Library was awarded to Pei, further subjecting our wee but energetic architectural community to endless hours of servitude as liaisons between government agencies and clients, providing specifications for workspaces that won't be build and generally accumulating unbillable hours under the sharp-eyed scrutiny of the neofascist company accountant. What a life.

Deborah L. Alpi
Pacifica, California
---
A defense of Jay McInerney! The book signing that you mentioned in " 'Oh, and Mr. Faulkner? Could You Make It Out to Sandi?" – Spotting Famous Writers Doing Their Book-Signing Thing" was the third one he had done in Manhattan. He started his promotion campaign for Story of My Life at the late, great Scribner's store on Fifth Avenue and sold 200 books.

As a veteran of dozens of signings (I used to be promotional manager at the Rizzoli and Scribner's stores), I've found them painful experiences. I was grateful for the mad performance artist who kept Ultra Violet occupied at her less-than-successful signing. An hour can go by very slowly when you have no takers for the books, and I couldn't think of much to say to her ("Gee, were the orgies fun? Did you really give Andy all those ideas?").

You always have fanatics for certain authors. The John Waters signing at Rizzoli SoHo brought every Pink Flamingos maniac out of the woodwork (I was afraid they were going to start licking the walls or something). One guy presented Waters with a bowl of fake vomit, and another handed over a can of creamed corn. [Succotash in the making, shurely?!]

Signings are an interesting way of watching well-known personalities squirm. William F. Buckley Jr. couldn't wait to head for the door; he seemed embarrassed by the Wall Street clones who spewed unctuous words of praise on him.

Who were the big winners in my two years of setting up signings? Chuck Norris, Lyle Crocodile (an investment-banker friend in a reptile suit) Snow White, David Byrne, Elia Kazan. Hardly a heavy-hitting literary list, but then no one's too excited by a book signed by Updike and Bellow these days.

Kathryn Koegel
New York
And we'll return to the literary mæstro shortly.
---
I note a lengthy letter on Canadian content in radio broadcasting from one Marc Weisblott, reasonably-well-known local music journo and a sometime fan of mine. I guess he goes back a ways (Cf. Jonathan Hoefler).
---
Typography alert

A very Herb Lubalin– or PhotoLettering-like calligraphic advertisement for Sofi restaurant, with red-blue-green script that loops back on itself and shows little notches around the edges sitting atop very proud and attractive Avant Garde Gothic Extra Light, which we really need to revive.
---
Beardysomething
I am prepared to defend the thesis that Thirtysomething, which I indeed refuse to write with the allegedly "correct" initial minuscule, is, when viewed in totum, the best-written cinematic work of the 20th century.
I Am Not Kidding™.
At one point I had the entire frigging series on tape. I do not miss those now-absent tapes. Perhaps that is because I "worked through" the entire series, handwriting some 300 pages of episode-by-episode notes that make MightyBigTV recaps look like telegram copy. I will never type out that text, nor will I ever post it. It is the only writing project I ever undertook solely for myself (and, I suppose, my heirs – and won't they be surprised to find their names in my will).
Every criticism of the show has merit, except that there are really only two criticisms – one concerning the show's self-absorbed yuppies, the other pertaining to female stereotypes (reactionary stay-at-home mom; harridan; scattered, neurotic Jewess; two-timing career girl). Anything remotely resembling an alert reading of the series disproves the first complaint: Michael and Hope only became yuppies once Michael got promoted, which itself caused so many problems he simply quit. (After Miles Drentell came to his house to beg Michael to come back, the magnificent Ken Olin nailed a single line of dialogue consisting of four simple words: As he held Hope, he asked "What have I done?") And the couple were "yuppies" only if you define that to mean "pays for the table at a nice restaurant." Yuppies never actually existed until the term became well-known, at which point reality moulded itself to fit the word.
(That part is actually true. A Mother Jones story ten years ago tracked down the writer who coined the word. She admitted she made the whole thing up. And so-called yuppies in fact flunk every test of selfishness you throw at them. When you hear "yuppie," on your more-generous days you should think "straight person with money and taste." On less-generous days, think "straight person who pays a lot of taxes." And anyway, yuppies by definition were poorer earlier in their lives and live less ostentatiously than, say, the riche or nouveau riche.)
And as for the girls – they're not stereotypes, they're archetypes. The problem with archetypes is that so few exist for men. Archetypes are a feminine Jungian construct. (Men are the default state, or so the anti-patriarchy thinking goes; women are "special" and must be explained away.) Still, Thirtysomething men were no less typical: Overburdened son; wayward artist; failed dreamer; Machiavellian overlord; hayseed; and of course nancyboy. And on the show, female characters received massive screen time even though none of them was the lead. Michael and Elliott, in fact, were lead characters in only a plurality of episodes, by my reckoning.
Besides, presaging self-aware metatelevision, the show reported its critics' own complaints in two separate episodes: A marketing focus group reacts to a prototype (archetype?) TV commercial by accusing it of every sin the show allegedly had, and, in one of the show's many fantasy sequences (reality is never quite sufficient), the young hayseed turns himself into the Michael that existed in the minds of detractors.
Thirtysomething was like a Saab – an intelligent, sensitive, worldly creation for intelligent, sensitive, worldly people. It lasted exactly as long as it should have and ended on a note true to itself. That doesn't mean we can't have some fun with it – especially if "we" are SPY magazine and the era is 1990!
Beardysomething

The SPY Interview: Ed Zwick, Bearded Auteur

It's disturbing enough that a significant percentage of the American population – and even of the staff of this magazine – believes that ABC's Thirtysomething is a compelling encapsulation of the turn-of-the-decade Zeitgeist. What's even more disturbing is that the program's creators and executive producers, Edward Zwick and Marshall Herskovitz, apparently see fit to use their show as a forum for Big Brother–like advocacy of facial-hair growth.

With startling frequency, Zwick and Herskovitz, both beard-wearers themselves, have introduced characters who are both empowered and bewhiskered. Characters such as Miles Drentell (David Clennon), the immaculately-dressed mind-game artist who heads DAA, the advertising agency where Michael (Ken Olin) and Elliott (Timothy Busfield) work; Jeffrey Milgrom (Richard Gilliland), the married lawyer who stole the heart of Ellyn (Polly Draper); and John Dunaway (mellow 1970s folk-rocker J.D. Souther), the environmentalist-attorney with whom Hope (Mel Harris) enjoys a suspiciously flirtatious relationship.

Meanwhile, other incidental males on the show – such as the deposed DAA creative director Carl Draconis (Stanley Tucci [!]) and Matt (Timothy Carhart), the hardware-store owner whom Nancy (Patricia Wettig) abandoned in favour of her bearded husband – are clean-shaven. SPY spoke with Zwick about his and Herskovitz's hidden grooming agenda.

SPY: We've noticed that some of the more successful semiregular male characters on the show have beards, whereas others – the ones who get shafted – do not. How much does this have to do with the fact that you and your partner have beards?

Zwick: Exceedingly little, I think. But you're omitting a couple of things. Corey Parker, who plays Lee Owens, the character with whom Melissa has become increasingly entangled, does not have a beard.

SPY: But he had a stubbly goatee when they first met.

Zwick: Uh, yes. But understand – we don't do all the casting on the show.

SPY: Well, when you're creating characters like Miles Drentell, do you say, "You know, I see this character as having a beard..."?

Zwick: No, never. David Clennon is a guy I directed in a movie called Special Bulletin many years ago, who was then beardless. We thought of David as the evocation of the Miles character, and when he arrived to read for us, he'd returned from Nicaragua, and he was bearded. And we weren't gonna tell him to shave. And J.D. Souther has had a beard since about 1968.

SPY: Nevertheless, it was you who cast him.

Zwick: Oh, yeah, that's true. That's true.

SPY: When you're auditioning actors for new parts, do you bring in a mixture of bearded and clean-shaven guys, and then inevitably cast only the bearded ones?

Zwick: You know, I wish that there were anything like such a master plan pertaining to anything on the show.

SPY: Is there any chance that Ken Olin will have a beard written into his part?

Zwick: Um, I don't know. But what you're asking is – let me get this straight – are we consciously promoting a particular hirsute aspect? The only thing I would say is "Not consciously."

SPY: So you're denying that you're writing with a slant in favour of bearded characters?

Zwick: I deny nothing about my writing. I'm willing to accept responsibility for anything – except volition.

– David Kemp
---
SPYTV?
A full-page ad appears

for something called... what, exactly? "SPY is on the air! SPY the magazine is now SPY the tv special!" screams the headline, using Daily Variety orthography. April 4, 1990 was the big day. The NBC special (superspecial, shurely?!) starred Victoria Jackson (isn't she an archetype of some kind – of the forgettable comedienne–starlet?), the redoubtable Harry Shearer, and of course Joe Namath.
I have a dim racial memory of watching the program. My dim racial memory holds that I was disappointed. It came over as a Real People manqué.
---
How to Be a Movie Fan

How to Be a Woody Allen Fan

Know what anhedonia is and work at having it. Say whenever possible, "The question isn't 'Is there life after death?' but rather 'Is there death after life after death?' " Give a girlfriend a copy of Sartre's Nausea for her birthday. When people ask you who your doctor is, ask them if they mean your psychiatrist, your ophthalmologist, your podiatrist, your orthodontist, your neurologist or your ear-nose-and-throat man. Think of pornography as folk literature. Tell people that you heard you are what you eat and so are on a diet consisting exclusively of sacramental wafers. Have allergies. Tell people that you're a big fan of Chekhov's plays but don't really care for the early, funny ones. If friends ask you to go camping with them, tell them you think Walden is a horror story. Say that you're looking forward to the colourized version of Guernica. If you're Jewish, tell people that you're neurotic not so much because you have a Jewish mother but because she has one, too.

How to Be a Frank Capra Fan

Be from a large family and/or have a large family, and live in an old but well-kept-up wooden house in a small town. Celebrate both Lincoln's and Washington's birthdays. Encourage your son to become a Senate page. If you're a young man, drift around the country doing odd jobs and getting to know all kinds of people. Think of the Depression as a time that proved the resilience and mettle of Americans. Hate the recent Lincoln Center production of Our Town. Root for the home team. Believe that money is the root of all evil. Become alienated from the person you love, then decide to marry someone you don't love, but run away from the wedding in the middle of the ceremony, marry the person you love, and live happily ever after. While visiting a friend who has never mentioned his military service, accidentally discover a Medal of Honour and a document citing him for an extraordinary act of battlefield heroism. Tell off a slumlord at a city council meeting. Patronize neighbourhood merchants, not national chains. Listen objectively to soapbox orators. Vote.

How to Be a Federico Fellini Fan

Buy all the fumetti you can find at a foreign-language bookstore and collect anthologies of the comic-book art of Milo Manara, Guide Crepax, Moebius, et al. Have mixed feelings about Stardust Memories. Defend Fellini's gaudy use of colour by saying that black-and-white is best left to film noir and neorealism. If you visit Rome and go to the Fountain of Trevi, think about Anita Ekberg in La Dolce Vita rather than about Jean Peters, Maggie McNamara, and Dorothy McGuire making wishes in Three Coins in the Fountain. Admire Casanova. Have plenty of sexual fantasies regardless of how fulfilling your sex life is. Have a nagging suspicion that Antonioni's use of Mastroianni rivals or even exceeds Fellini's. Wear hats with great panache. Complain to a theatre manager who puts Eight and a Half on the marquee instead of 8½. Know what 8½ means.

How to Be a Jerry Lewis Fan

While in France, be unable to squeeze a visit to the Louvre into your busy itinerary of mime shows, Fernandel retrospectives, and Punch and Judy productions. If you can't afford a trip to France, settle for Las Vegas. Enjoy telethons. Have an abstruse theory about why The Nutty Professor is as enduring as As You Like It and find levels of psychoanalytic meaning in Cinderfella. Take a set of plastic teeth with you on a date. Dream about an octoplex Jerry Lewis theatre with a different Jerry Lewis movie playing on each screen. Reminisce about the Catskills, even if you've never been there. Get a job as a soda jerk or a movie usher and work out all sorts of wacky routines with your ice-cream scoop or flashlight. Don't understand Woody Allen's popularity. Try out your act in the intensive-care unit of a children's hospital. Have copies of Cahiers du Cinéma on your coffee table next to Cracked. If you have a son, name him Herbie or Irving or Melvin and ridicule him in the presence of others.

How to Be a John Ford Fan

Think of Howard Hawks as the poor man's John Ford and Henry Hathaway as the poor man's Howard Hawks. Collect arrowheads, Frederic Remington prints and Sons of the Pioneers records. Be Irish and Catholic. If you're a middle-aged man, be a wistful widower, and if you're a middle-aged woman, be a feisty widow. Be able to play "Shall We Gather at the River" on the accordion and/or harmonica. Know John Wayne's real name and how he got the nickname Duke. Enjoy hanging out with old stuntmen and listening to their stories. Remember Pearl Harbor. Send a Christmas card to Ronald Reagan every year. Enjoy riding horses but don't anthropomorphize them. Don't feel any guilt for what we did to the American Indian. Wonder why the hell Ford didn't make more movies with Spencer Tracy. Own an old hound named after a Civil War general. Never turn off the national anthem during a TV station's sign-off segment. Blow the head off your beer. Cut cigars in half with a jackknife while you try to think of laconic answers to questions.

How to Be a Steven Spielberg Fan

Live in the suburbs, preferably in California, especially in Ventura County. Or be from Cincinnati or Cleveland, visit Hollywood, and be enthralled when you see the HOLLYWOOD sign and discover you can buy copies of the daily Variety and The Hollywood Reporter from newspaper vending boxes all over town. Watch old Twilight Zone, Outer Limits, and Alfred Hitchcock Presents reruns on TV. Make a pest of yourself with your video camera at picnics, parties, and family gatherings. Think of Ron Howard and George Lucas as auteurs. Lament the passing of the studio system, but not the star system. Get along well with prepubescent kids and old people and wonder who takes direction better. Go to a Hallowe'en party in a costume bought at the MGM auction. Collect movie memorabilia and have all 87 of the bubble-gum cards and 12 stickers in the first Topps E.T. set and all 36 of the Bowman Movie Stars bubble-gum cards, and pay an exorbitant price for a mint-condition Hollywood Bread label. Stubbornly refer to Mann's Chinese Theater as Grauman's. Keep a vintage Viewmaster on top of your VCR.

– Larry Tritten
---
Chronicle of Michael Moore–bashing foretold?
From "The Industry":
[F]or all the Jewish executives at Warner Bros. ... the company is still distributing Michael Moore's Roger & Me. What does one have to do with the other? When Moore went looking for a distributor last year, one of his inviolate demands was that his documeantary not be shown in Israel. Although several distribution companies turned Moore down as a result, Warner Bros. apprently complied. The left-wing Moore, it seems, is adamantly pro-Palestinian and plans to examine the Israeli government in his next documentary. Yitzhak & Me?
Nope: Pets or Meat? But good guess.
---
In further typographic analysis, we're just loving the Pediatric AIDS Foundation advert typeset in SPY's own font, Garamond 3, at about 120% width.
"The way some of us perceive people with AIDS, you'd think you could get it just by desecrating this typeface."
---
A segment deserving intact full-page scanning

"A Star Is Born: One Rises, the Other Falls: The Zero-Sum Celebrity Careers of Madonna & Sean Penn, Nora Ephron & Carl Bernstein, Elizabeth & Bob Dole, Snoopy & Charlie Brown and Princess Di & What's-His-Name."
A stunning usage of counterpoint, with brief comic-strip frames and long explanatory paragraphs. Henry Alford nails Di & Chuck particularly well.
Along with the next item, here SPY shows that criticism of public figures is a form of biography of the living. It is essentially journalistic and literary. Meanwhile, elsewhere in the magazine, we enjoy simple, superficial sniping, as in the priceless "Party Poop" photos of (in this month's issue) society ladies changing into high heels at coat check.
As I keep trying to explain to people, bitching doesn't necessarily make you shallow. It doesn't have to make people like you, either, but at least they should dislike you for the correct reason.
---
The Merry wife of McInerney
A solid first-person journalistic piece (actually, it consists of long quotations buttressed by unbylined intros) comes from Merry McInerney, a name that sounds like its own punchline but is in fact the actual name of auteur Jay McInerney's first wife. It is written in the manner of abused-wives' tales but actually honest about the abused wife and the abusive husband.
(Can't keep them straight? Well, that's the thing, isn't it? Jay's the straight one. Bret Easton Ellis is the ambisexualist, as a quintessential photograph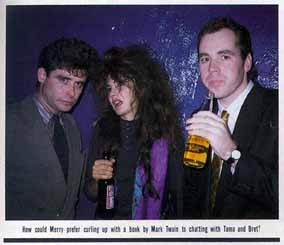 in this story shows: Zoned-out, shrewish, forgotten Jewfroed nobody Tama Janowitz absently grips a Bud and talks the ear off a distracted McInerney while Ellis, wearing a beautiful suit and understated watch and benefiting fully from the camera's flash, raises an imported beer to his ruddy pincushion lips and hopes the camera loves him.)
McInerney strikes me as more of an actor than a writer, with the same rootless personality, neuroses, vulnerability, and flippancy. It's too easy to ascribe "insecurity" to this constellation of personality traits. Ben Affleck is exactly the same way, and he's hardly insecure. If Pisceans embody a duality (well, we do), actors embody a multiplicity.
The extravagant, romantic Jay whom Merry married was not a fake Jay; it was merely one of many Jay instances. When Jay changed later on – when he did too much coke, stayed out too late, and remained oblivious to the hurt he caused by sending his wife home from late-hour, coked-out parties alone – he merely manifested another set of instances. He would change twice more in Merry's time with him, then apparently change a few more times once he settled down with some other chick and his name became the real punchline.
You can't expect consistency from this type. The problem is that one of the instances is enough to fall in love with. As the other instances erupt, so do the hopes and self-delusions: Maybe he'll rotate back to the Jay I married. And indeed he would, but it would not last.
While this may sound like an apologia (excusing malfeasance due to inbuilt psychology), Jay McInerney otherwise acted like a cad, which would be quite enough to get him kicked out of the house had he been married to someone else. Merry supported him during his early writing career. Bright Lights, Big City, which is so good it even works beautifully as an audiobook, would have shown much rougher edges without Merry's pre-editing. (Only a happy man could write such a cutting book. Jay's second published novel, a respectable attempt at serious literature entitled Ransom, was written over most of a torturous decade before, during, and after he wrote Bright Lights, Big City.) Merry got her husband off coke, mostly, for a while. But Merry had the disadvantage of not being famous. She wasn't a destination at Studio 54; instead of being a reason to go out, she was a reason to stay home.
The cards were dealt pretty early.
Merry should have been tougher and more rational. But that's not the issue. The issue is that marrying a delicate sentimentalist to a chameleon is a guarantee of heartbreak, acrimony, and divorce. And the worst part is that the chameleon won't notice any of it, not even after you publish a magazine article laying it out in black and white.