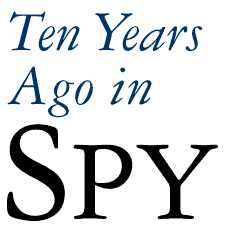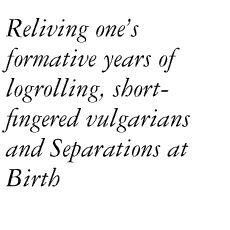 We hereby cast our eye back on SPY, "The New York Monthly" – that exemplar of "irony," memorably belligerent, bilious adjective chains, and thrillingly recherché typography, from which our entire writing style (and ironic, memorable, belligerent, bilious, and recherché personality) derived.
Where possible, we do actually attempt to stick to a precise ten-year retrospective, but we reserve the right to mix and match.
January–February 1991
It's a superspecial COWABUNGA! ish of SPY as Bart Simpson spraypaints IS YUPPIE SCUM below the SPY cover logotype.
Picture my surprise
"From the SPY Mailroom" this month induced mild myocardial infarction.
Will's letter is the only one in this month's pile from a Canadian reader who is not named Clark. (Clark – what a dependably Canadian name.) Karen L. Clark of Toronto takes issue with David W. Ritchie's letter last May describing Canadian cities as "clean and relatively safe." Clark says "Stay away," citing increasing crime rates and the cold weather. (Even Toronto and Vancouver, she says, are "hyperactive without being interesting.") And Joe Clark, also of Toronto, has caught us referring to the occasionally amusing TV series Doctor, Doctor in one issue as "not unfunny" and in another as "witless." Clark – this Clark – must be seriously devoted to SPY or Doctor, Doctor to have noticed that. We're not sure which explanation would make us happier.
Gah.
Yes, I now recall writing in to point out the magazine of record's egregious hypocrisy. Doctor, Doctor, should you have forgotten, was a 1989–1990—era "situation comedy" starring Matt Frewer, late of Max Headroom. Impossibly daring, smart, and funny, with absolutely the bestest and most credible kidding and teasing relationship between Frewer and his really quite hot and potent homosexualist brother. The show never jumped the shark. Frewer has a history of getting away with shit – e.g., first simulated intercourse on TV (on Max Headroom – believable and essential to the scene), then teasing his homosexualist brother up to, and apparently beyond, the "comfort level" of CBS executives, who shitcanned the show.
So – OMIGOSH! – I actually got myself into SPY. I'd completely forgotten.
---
He wore an ebony Hugh Boss tuxedo with aged silk lining, cummerbund, and Jeff Stryker dildo
By now we had expected American Psycho, Bret Easton Ellis's new novel depicting extravagant disemboweling and sadistic sexual violence, to be proudly wearing Simon & Schuster's colophon on its spine. But at the last minute, Simon & Schuster chairman Richard Snyder announced that "it has been decided not to go forwad with the publishing," calling the decision a "matter of taste." [...]

[W]e decided to lend Ellis a hand in placing his work. We sent a comparatively mild seven-page chunk of Ellis's manuscript – a passage in which the protagonist tortures a sex partner and then cuts her in half with a chainsaw – to a number of magazine editors....
And the response?
Screw: "[Your piece] is not suitable for our magazine."
Swank: "Your style and/or subject matter is not appropriate for publication in Swank."
Gent: "Sorry we cannot use this material, but we appreciate your thinking of us."
Turn-On Letters: "Too long."
Options, the [Canadian] Bi-Monthly: "Your story isn't hot... [is] too short... has too much heterosexual content [and] violates a Canadian taboo."
Cavalier: "Sorry, this story is too short for us, for beginners.... It's also too violent for our readership.... This isn't really eroticism – it's horror fiction with brutal sexuality. I'm not sure there's a market for it – not in the men's magazines (too brutal) nor in the horror mags (too sexual). But you write well!"
What's surprising is how well the movie turned out, isn't it? The overdubbed monologuizing and strained homicidal tooth-baring smiles were what made it. Hard to imagine that Christian Bale also starred in the very bestest Spielberg picture, Empire of the Sun, which I distinctly remember watching on a jewel-like Betamax VCR. (I want to join the Betamax underground! It's so far underground it has no credible Web sites.)
---
Mules or clogs, Your Highness?
A tremendously juicy profile, by Harriet Barovick (later to write for Time and CNN), of Lisa Halaby, renowned the world over under her nom de mariage, Queen Noor of Jordan. His Highness the King, by all accounts, is not only shorter than Tom Cruise but shorter than his lovely American bride (fourth to accompany the churlish dwarf potentate up the marriage aisle).
Queen Noor has frequently referred to herself as a "humble civil servant," a "working queen" with a "modest" way of life and "no time to worry about [our] own safety." In addition to the palace in Amman, the palace in Aqaba and a new lavish private residence outside Amman bought this year [1991?], the royal couple also own a country estate in the hills above Vienna – this is thought to be the future residence-in-exile, and they have poured some $5 million into restoring the place, in the process equipping it with an elaborate security system that includes guard dogs, a video camera at every entrance, and a wraparound electric double fence. [...]

A queen must look right, and Noor's taste in clothes runs toward Yves Saint Laurent and Pierre Cardin. At the palace, a chambermaid is employed to attend exclusively to Her Majesty's wardrobe, which is distributed through several rooms and includes – is this the fin-de-siècle indicator of imminent exile? – hundreds of pairs of shoes. Every item has been photographed, and the photographs are organized into albums to make packing easier.
You mean Her Highness is not preparing herself like a nail-biting kidney-transplant candidate, with an entire LearJet loaded on the tarmac and ready to go?
---
SPY for Kids
SPY crank-calls Lauren Bacall and superstar directrix Susan Seidelman ("director of a movie starring Madonna"), explicates the contents of your parents' dresser drawer ("Valium. Mom would cry even more if she didn't have these"; "Scarf. Left over from an 'experiment' ").
The existence of Santa is scientifically disproved, with harrowing Nature morte avec crâne de bœuf–esque illustration of reindeer burning up upon atmospheric reëntry.
Three hundred and fifty-three thousand tons of reindeer and presents are going to create an enormous amount of air resistance – especially at 650 miles per second. This air resistance will heat the reindeer in the same way that spaceships are heated up when they reënter the earth's atmosphere. According to our calculations, the lead pair of reindeer will absorb 14.3 quintillion joules of energy per second each. This means they will burst into spectacular, multicoloured flames almost instantaneously, exposing the reindeer behind them. As Santa continues on his mission – leaving deafening sonic booms in his wake – charred reindeer will constantly be sloughed off. All 214,200 reindeer will be dead within 4.36 thousandths of a second.
Later, the paterfamilias behind Mad is described deliciously as "bosomy, eccentric publisher Bill Gaines." A fate to be feared, shurely?!
---
Severe celebrity-fellative photographic faux pas
What is up with SPY's series "[Clothing-designer name] Shoots Himself"? This month, it's Anthony Tarassi (qui?), who photographs five spindly Residents-manqué models with Babar headdresses and Tarassi's appallingly preppy Hudson's Bay–quality officewear. (Suede ankle boots with white socks and pleated shorts? I don't think so.) SPY did the same thing with Paul Smith.
The magazine exists to lampoon celebrities, not act as their mail-order catalogue. I don't think this is the sort of thing I should have to issue a posthumous reminder of.
---
Later, though, we are treated to Harry Benson's portfolio of unpalatable, unflattering portraits of celebrities in bed. It's enough to put you off sleeping. Truman Capote's gut protrudes from his polo shirt. "Capote once saw a derelict sleeping beside a pier and said, 'Oh, you're not very inviting. You're Gore Vidal's type.' "
Coïncidentally, Benson is much fêted of late, what with his new book out. Good profile in Esquire, plus a presumably-good featurette on TV I managed to miss.
February's ish is even better. But we must stick to our schedule here like good bureaucrats.